Build4Asia Conference 2018
Climate Change – Problems and Sustainable Solutions 氣候變化 – 問題與可持續解決方案
Over the decades, climate change is an atrocious endless topic across the globe, frequently making to headline news. With the support from the HKSAR government and 9 industry associations, the conference this year convened 18 Guest Speakers from Electrical and Mechanical Services Department, Environmental Protection Department and other associations; aiming to offer and share a series of best practice to encounter climate change and address on potential sustainable development and solutions.
過去數十年來,氣候變化是一個無盡的新聞話題。是次會議得到香港特別行政區政府及行內9大建築和工程行業協會的鼎力支持,邀請了18位來自機電工程署、環境保護署及其他政府部門及學會等專家,以全球氣候變化為主題,剖析全球暖化下建築業的挑戰及風險,分享可持續發展科技的最新研究成果及對策,加強與會人士對可持續發展工程的認識及了解。
* The programme will be held in English only.
---
Date:
9 & 10 May 2018
Time:
9 May (14:15 – 17:30) & 10 May (09:00 – 17:00)
Venue:
Hall 1, Hong Kong Convention and Exhibition Centre 香港會議展覽中心1號展廳
---
Conference Programme 會議行程
  Day 1 – 9 May 2018 (14:15 – 17:30)

Keynote 主旨演講 Mr Donald Tong, JP

Permanent Secretary for the Environment / Director of Environmental Protection, 

HKSAR Government

The Science of Climate Change and Its Relevance to Hong Kong 氣候變化科學及其與香港的關係 Mr Lee Sai-Ming Senior Scientific Officer, Climate Forecast Services and Climate Change Studies Hong Kong Observatory
CLP's Climate Change Journey  中電的氣候變化之旅 Dr Jeanne Ng Director of Group Sustainability CLP Power Hong Kong Limited
Big Data in Building Energy Efficiency 大數據在建築節能的應用 Ir Dave Chan

Director of Information, Communication & Building Technologies 

ATAL Building Services Engineering Ltd
Application of High-efficiency Chillers in Hong Kong Baptist Hospital  高效冷水機組在香港浸會醫院的應用 Mr Geoffrey Lau

Senior Manager (Estates and Facilities Management)

Hong Kong Baptist Hospital
Electronically commutated (EC) Motor Plug Fan Technology and Application  電子換向(EC)電機離心風機技術與應用

Mr Clement Jim

Market Specialist

Ebmpapst Hong Kong Ltd

  Day 2 – 10 May 2018 (09:00 – 12:30)

Innovative and Sustainable Solution to Create a Smart Future  匯聚創新及可持續的智慧未來 Mr Benny Liu

Solutions Manager (Programme)

Global Virtual Design and Construction Limited

Smart 3D Indoor Mapping System 智慧3D室內測繪系統 Mr James Ji

Co-Founder

Beijing Navinsight Technology Co Ltd

Blue GIS – Green is just not Enough 藍色氣體絶緣開關櫃 – 綠色是並不足夠 Dr Mark Kuschel

Chief Technology Officer

Siemens High Voltage Gas-insulated Switchgear

Engage Building Occupants to Reduce Energy Consumption with Intelligent Building Solution  智慧建築解決方案加強用戶參與,降低能源消耗

Ms Jessica Zhao

Marketing Director

UTC Building Solutions Group, Asia

 
Building for Management – Performance Tracking at the Design Stage 建立管理系統 — 樓宇設計階段的成效追蹤 Mr Tyler Holland

Chief Operating Officer

En-trak Hong Kong Limited

Wire Suspension Systems for the Suspension of MEP Building Services 鋼絲縣掛系統 Mr Allan Young

Business Development Manager (International Markets)

Gripple Limited

  Day 2 – 10 May 2018 (14:00 – 17:00)

Value of Revitalization of Industrial Building – Genesis 活化工廈的價值 – 創協坊 Mr David M.H. FONG, BBS, JP

Managing Director

Hip Shing Hong (Holdings) Co Ltd

Healthy Buildings to Healthy Communities 從健康建築到健康社區 Ms Samantha Allen

Director of Business Development

International WELL Building Institute

Smart Cities – Are we there yet? 智慧城市: 既濟未濟 Mr Ivan Fu, JP

CEO / Director

C Cheng Holdings Limited / LWK & Partners (HK) Ltd

IoT Elevators and AI: How to make sure your Lifts and Escalators are Thinking Ahead 物聯網電梯和人工智能:如何確保您的升降機和自動扶梯走在最前方 Mr Robert Roseby

Existing Installations Business Director (South East Asia)

Jardine Schindler Group

AI – Deep Learning and its Applications 人工智能 – 深度學習及其應用 Ir Dr FC Chan

Past President

The Hong Kong Institution of Engineers

Closing Remarks 閉幕總結 Ir Alfred Sit

Director

Electrical and Mechanical Services Department, HKSAR Government
---
Conference Fee 會議費用
          Date
Fee

9 – 10 May 2018

HK$100
---
Payment Method 付款方法
| | |
| --- | --- |
| |   Option 1. By Cheque |
| | Please mail this form together with your cheque / bank draft to: 17/F China Resources Building, 26 Harbour Road, Wan Chai, Hong Kong Att: Ms Carmen Leung Or email a copy of your cheque / bank draft with your contact details (Name, Company Name, mobile number and email address) to [email protected] |
| | |
| --- | --- |
| |   Option 2. By Cash Deposit / Transfer  |
| | Please send a copy of the 「Pay—In-Slip」 with your contact details (Name, Company Name, mobile number and email address) via mail or email to [email protected] Name of account: Hong Kong Exhibition Services Ltd Account No.: 003-410-02286058 Name of Bank: Standard Chartered Bank (Hong Kong) Limited |
---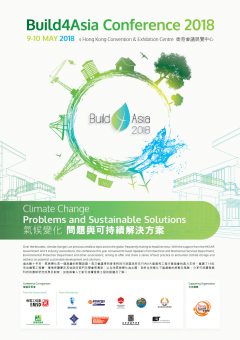 ---
Contact Us 聯絡我們
For enquiry, please contact 如有查詢,請聯絡
---
Conference Supporting Organisations 會議支持機構
From the Government 政府機構:
From the Industry 行業機構: